Treasures of the Collection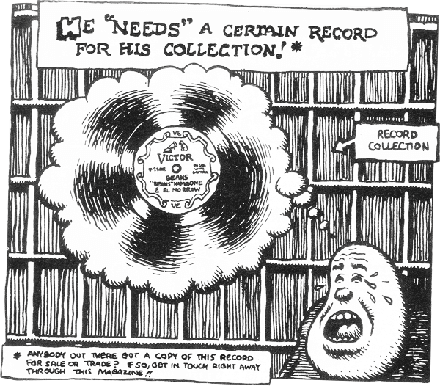 Within the collection of well over 650,000 LPs, 78s, 45s, cylinders and related ephemera, there are a helluva lot of very precious musical artifacts we're gonna call treasures of the archive, 'cause they are.
Of course, all of the "Perfect Record" award winners are audio treasures too, but some of this bountiful booty needs to be seen to be believed. It's all real, and all part of the collection and none of it is borrowed or taken from the world weird web or the internettles. We recommend that you try your best not to "need" treasures like these or you may end up like R. Crumb's bean in desparate "need," quite likely for the rest of your life.
From time to time, we'll be sharing some of the best of this eye candy right here.
Acid Test Poster (late 1965)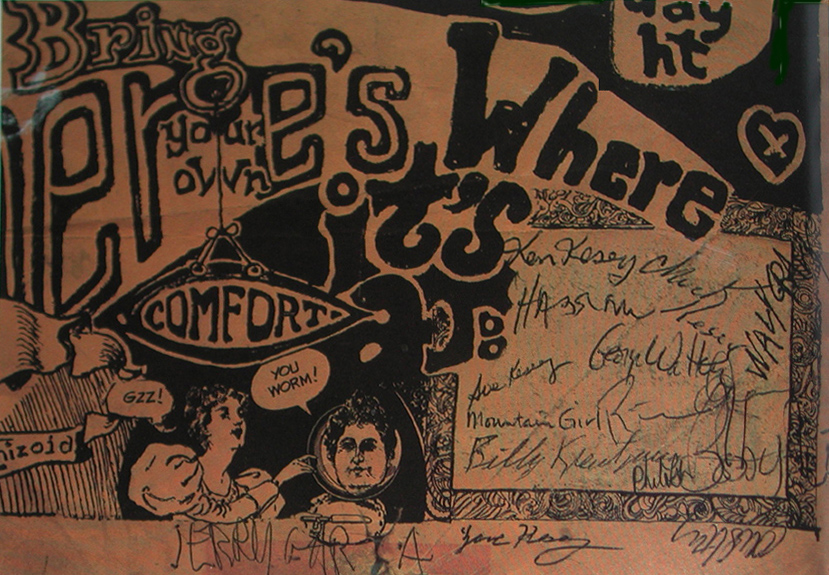 Poster mostly drawn by Norm Hartweg (with a little bit of
help from his fellow traveling Prankster pal, Paul Foster).
Jump on over to the hippist hippie shit there is.
Woody Guthrie
This rare Ethnic Folkways 78 album was part of a collection belonging to an older bohemian woman who decided by 1969 that her gypsy lifestyle wasn't conducive to taking care of her collection of 78s, a few of which were breaking every time she moved.
Glenn bought the collection and spent the rest of the day listening to her stories about Woody and the glory days of NYC during the infancy of the post-war folk music underground that had just moved into overdrive with the success of the Weavers. She had lived with the Guthries starting in the late 40s. Woody inscribed this to her for Christmas of 1949. Woody's wife Marjorie, inserted a little comment referring to the birth of her own daughter. Take a gander at this..
Sister Rosetta Tharpe
Sister Rosetta Tharpe records were pouring into the collection by the mid-60s and have always been a priority ever since. This scarce 78 album is her first, from 1945. Like Memphis Minnie, this woman could not only sing up a pre-Aretha storm but then tear it up, down and over on the guitar. She soon acquired an electric and continued to record well into the LP era. Dig This!
Lonnie Johnson
This rare mint copy of the first (78rpm) album by the great blues singer and guitarist Lonnie Johnson. It was recorded by Moses Asch of Folkways Records, who recorded so much great music for his highly original little labels. Incidentaly, the music writers in the media, the web and Wikipedia constantly refer to Woody Guthrie, Leadbelly and the like as have been recorded or worse yet "taped" by "Smithsonian Folkways." Lay your eyes on this..
Tom Lehrer
Revisited
– Introduction (1960)
Collecting is creepy. Record collectors put each other down for their various fixations. Everybody is convinced that his way of collecting is superior. They look down on casual collectors, who are just accumulators " the kind who 'll just pick up anything and let it pile up. A true collector is more of a connoisseur, and that's the good thing about collecting. It creates a connoisseurship to sort out what's worthwhile in the culture and what isn't. Wealthy art collectors in this country have sorted out who the great artists are. If you're collecting a lot of objects of one particular kind, you develop a very acute sense of discrimination. "– Robert Crumb quote taken from the book, "Vinyl Junkies: Adventures in Record Collecting" by Brett Milano.
A Tom Lehrer Record You've Never Heard Before…